About Us
For large gatherings among friends and family, come and dine in Hoit Yim Chinese Restaurant. Located at 152 Station Street in Fairfield, Victoria, the restaurant offers a family banquet meal that's good for 4 or more people. These include prawn crackers, mini spring roll, pork in batter sweet and sour, special combination, beef black bean sauce, large special fried rice, and a small steamed fried rice—all these for less than $50. You also get FREE prawn crackers for a minimum order of $25 and spring roll and crackers if you add $10 more. Visit us here or order food online.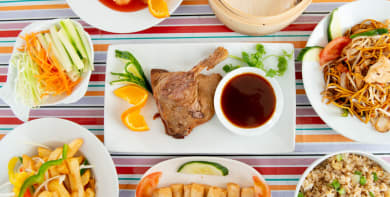 Reviews
Jane
"I like how i get free stuffs. Thanks"
9/09/2021
Greg
"AWESOME...!!! Nothing else need be said"
7/09/2021
Monica
"Really enjoyed the Mongolian beef! However the sweet and sour battered chicken sadly lacked in flavour. Customer service was great as well, I believe they have their own drivers too!"
3/09/2021
Cole
"Very tasty Kueh Teow!"
3/09/2021
Contact Us
Find Us
152 Station st, Fairfield, 3078
Opening Hours
Monday
11:30 AM - 9:30 PM
Tuesday
11:30 AM - 9:30 PM
Wednesday
11:30 AM - 9:30 PM
Thursday
11:30 AM - 9:30 PM
Friday
11:30 AM - 10:00 PM
Saturday
5:00 PM - 10:00 PM
Please note, delivery times may vary.
We deliver to
3068 Clifton Hill, 3070 Northcote, 3071 Thornbury, 3078 Alphington, 3078 Fairfield, 3081 Bellfield